Mehndi is a very important part of our Indian culture. In this article, we will share 70+ modern full hand mehndi design photos with their importance. Also, it has a great cultural, sentimental and social importance itself. It's not just a means of enhancing your hand and foot but also becoming a piece of jewelry in itself and choosing one that brings the best in you.
Simple mehndi designs, Arabic mehndi designs, and bridal Mehendi designs are massively popular among girls and brides-to-be. When you have nothing else to choose from, simple Mehndi designs are the ultimate option to go for.
The word Mehndi comes from the Sanskrit word mendhikā. It's a popular art in India and is recognized all around the globe with special significance. Mehandi is considered as a sign of a good omen and brides-to-be applying Mehandi embodies the affection for the groom and his family. Naturally, there are a lot of different types of mehndi designs available.
Modern bridal full hand mehndi design
So without any further delay, let's flood you with some of the most beautiful bridal mehndi design for full hand. In Indian festivals, Mehandi is usually drawn on the hands, legs, and top of the palm. Check out our list of 70+ Simple mehndi designs, Arabic mehndi designs, and bridal Mehendi designs below.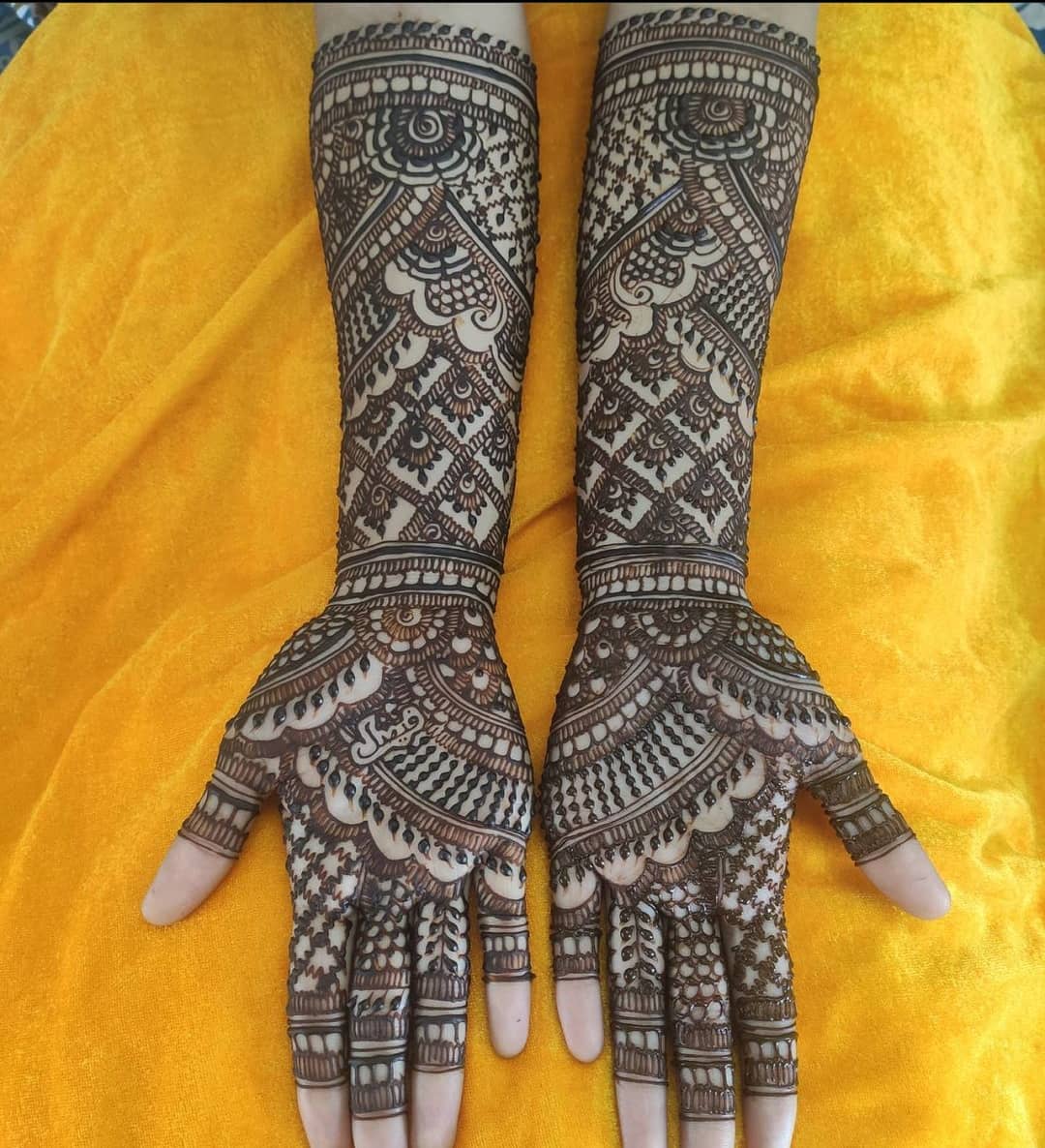 Fully jaali mehndi, something which is a fusion of traditional motifs and modern details. This Mehendi design has paisley and checkered pattern palms while the whole experimentation is carried out on the wrist area.
---
This diagonal floral design speaks volumes. It is indeed one of the trendy and traditional full hand mehndi designs. Ideal for front and backhands, this mehndi design features heavy frames and intricate motifs that look mesmerizing. When drawn nicely on the hands. It's up to you whether you want to keep it minimal or go for a complicated design that has small frames.
---
This is definitely one of the stylish front mehndi designs for brides. Do give it a try and we bet you would love it. The Mehndi ceremony is one of the most crucial and intimate ceremonies in Indian culture. The ritual is performed on both sides.
---
The preparation for this ceremony takes place days before. Since wedding is a once-in-a-lifetime event thus, every bride deserves a collection of the best and latest mehndi designs that gets darker with time. To help you, here we have curated some of the trendy wedding designs that one can consider.
---
Bold Bridal mehndi with jaal pattern in different design and lotus on the top with flower slider pattern in the midsection.
---
A coordinated mehndi design is just perfect for all the occasions like Diwali, Eid, Raksha Bandhan, and others. This design features motifs and flowers that make it stand out.
---
The body of the peacock is embellished with intricate motifs and elements that add life to the entire design.
---
This type of mehndi is used by the bride and groom's friends and family members. By writing their relationship status them.
---
This one is also an Arabic Mehndi design which is most popular in weeding and other festive time. Arabic mehndi involves a mix of floral artwork along with geometric patterns, resulting in gorgeous, bold designs. Every day we stumble upon interesting mehndi designs, on the basis of creativity. Arabic mehndi is the easiest to apply, hence, it's more popular amongst modern brides.
---
Heavy bridal stylish full hand mehndi design with lots of figures, the first thing that people would notice at your wedding.
Also Read: Best honeymoon places in India
---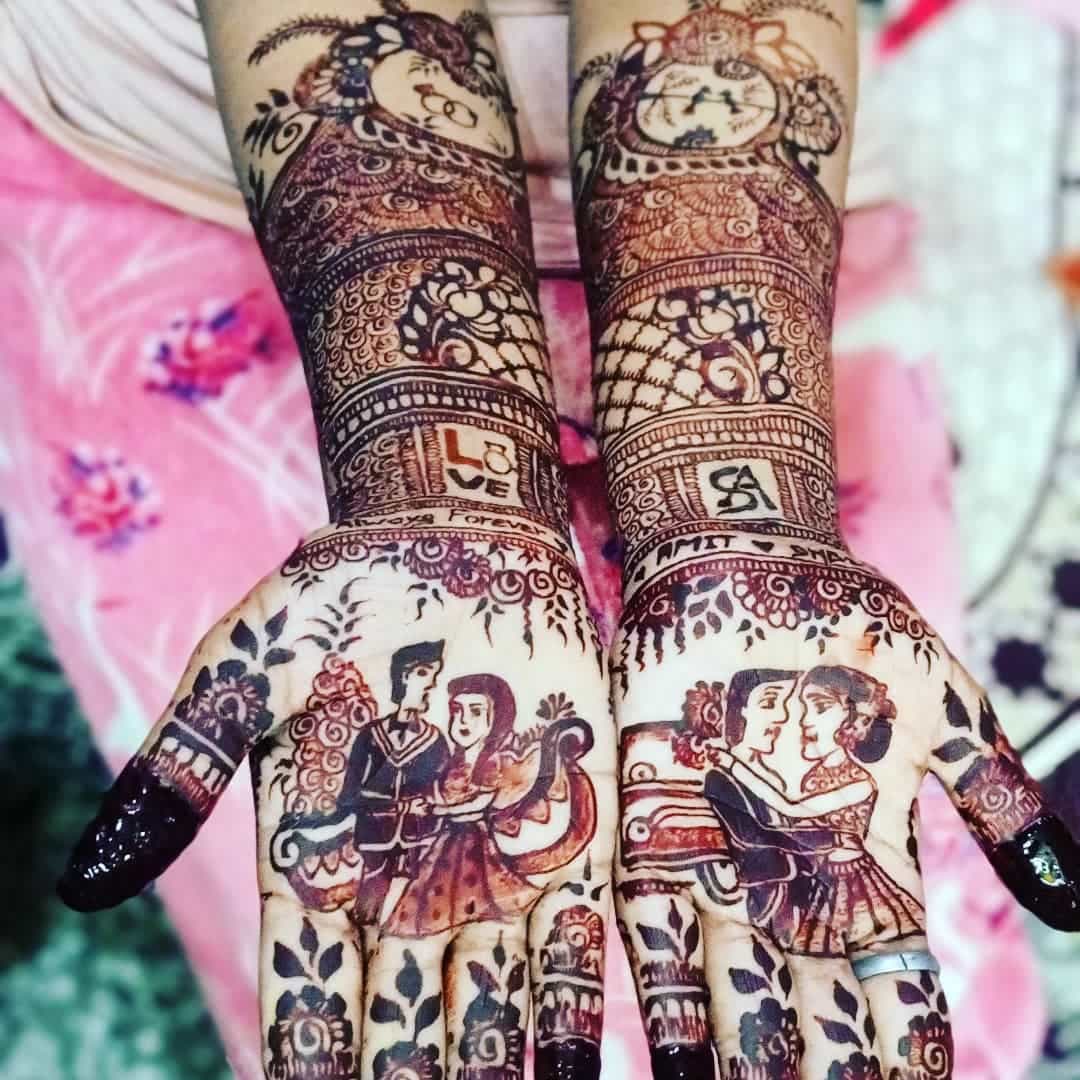 You need to make sure that the Mehndi covers your hands up to your elbows. This particular design is a fusion of Indian and Arabic Mehndi motifs.
---
When looking for simple mehndi designs images, this one is one of the simplest in the lot. It is just as easy to make as it looks. While you might think of a design that simply won't garner any praise at all. You also need to remember that the scope of experimentation with the mehndi is a lot.
---
This full hand mehndi design step by step is beautifully created and has the easiest of lines and patterns to draw. You just need to check for which line meets which end and so on. You will end up with the gorgeous-looking Mehndi in no time.
---
If you are bored of the usual floral patterns you have been drawing, this motif has to trick you. Look at how beautiful the design looks. Keep your focus on your palm since the fingers don't really have too many details to them.
---
In case floral patterns aren't really your thing, surprise everyone with this beautiful mehndi. It is easy to make and makes use of most lines and spirals.
---
Practice a few times in a rough sheet to make the perfect spaced spirals on the fingers. This will make the outcome even better.
---
These are rich and comparatively simple because the richness overlooks the intricacy. What makes these designs even more beautiful is that some parts of these designs are darkened by filling up gaps. The other parts are just simple doodling, which turns gorgeous full hand bridal Mehendi designs easily.
---
Flower and feather printed patterns are the most common and elegant mehndi, It is true that mehndi designs will always have floral patterns incorporated in them and sometimes just spirals as well.
---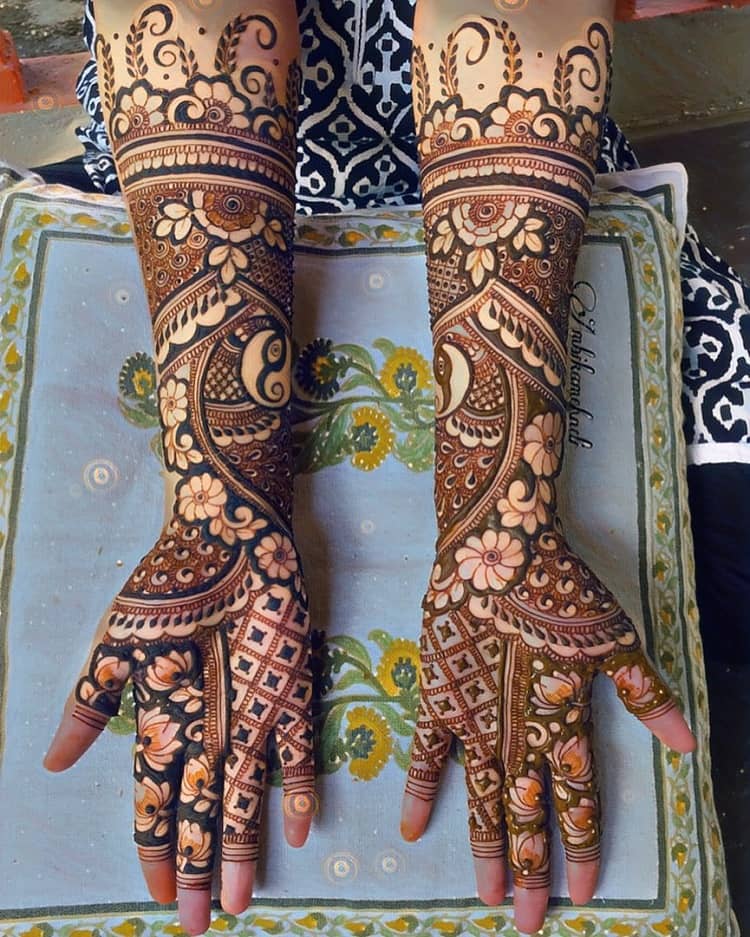 A simple bangle Full Hand Mehndi Design with large and less elaborate spiral designs looks excellent as any other mehndi design and the above women's simplistic nature gives pretentious look.
---
Girls who like flowers most, this design belongs to them. it is the most flowery and jaal pattern design with leaf. His mehndi design is mostly seen on brides' hands for engagement functions. The simple design is given a colorful texture to increase its charm. The floral design with leaves and wine branches gives a glamorous look both to hands.
---
You simply cannot help but fall in love with this gorgeous heritage, the symbol of love Taj Mahal design on your hand. The love express with flower rose design enhances the quality and beauty of mehndi is created using the finest of details to bring it to life. oh! I Love It!
---
If you don't wish to cover your entire hand with henna and want to simply design the fingers, then this Simple mehndi designs image is a must-save for reference. This beautiful henna design has basic motifs like flowers, dots, and leaves, which can be made easily and look lovely too!
---
This special mehndi design can even be applied on the palms of everyone like young, old, adult, or children. This is a tremendous mehndi design and the eye will be never moving another way this mehndi motif looks like a chain as it makes everyone feel that they have worn designer gloves.
---
This khafif mehndi design is redefining the meaning and beauty of art. Heavy bold design with a simple element, look fab on hand. Basically the hottest Indian wedding trend, minimalism is not only for brides. Who are picking simple lehengas and doing natural makeup but also enhance their look with this type of simple elegant mehndi.
---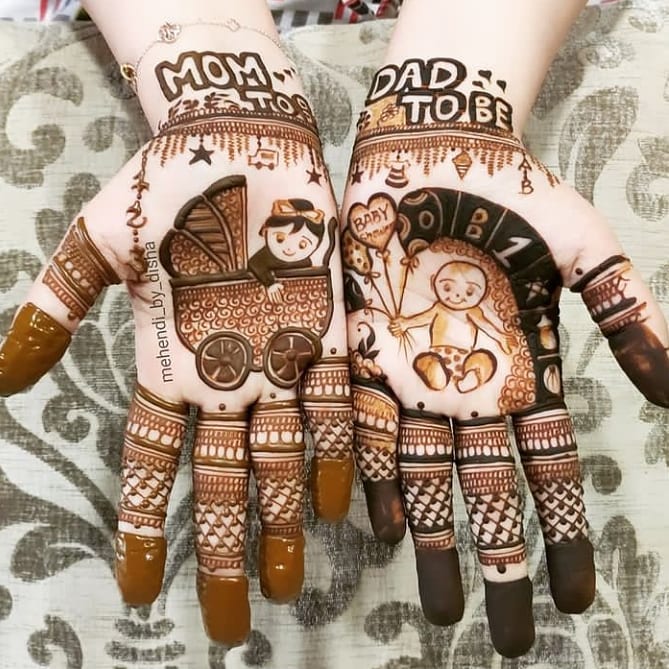 This type of mehndi designs for full hands is mostly liked by the women on baby shower time. as this way they celebrate their happiness, express their feelings through this. this is the most trendy mehndi nowadays.
---
This mehndi is special on Diwali time or on the time of weeding when everyone wants mehndi on their hand. simple block pattern mehndi with jaal o finger and wrist design with super classy pattern. Have this khafif mehndi design and you will stand apart from the pack without any effort.
---
Bold black mehndi design, There are many different easy mehndi designs that you can try on your wedding. What type of mehndi and its design you want depends on you. This mehndi design is like an open pattern, looks ethnic and comfortable. And there are small stars patterns drawn on them including chequered mehndi design.
---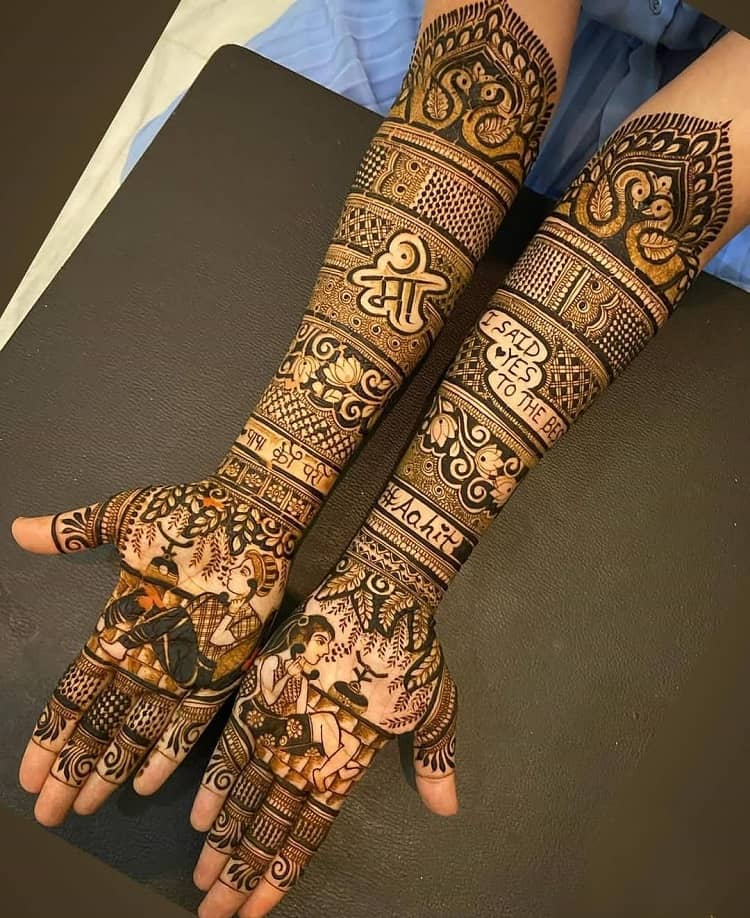 When it comes to the detailing, Full Hand Mehndi Designs are packed with utter magnificence and beauty. What makes ultimate mehndi patterns stand apart from the bridegroom figure with name initials designs that make the Mehndi more compelling.
Adding your spouse's name or initials is a common trend. However, you can even opt for a pictorial representation of your love story.
---
Furthermore, circular Mehndi designs encapsulate flowers, meaningful peacock figures, leaves, and other patterns that you may have seen written in Hindi maa and initials I said yes to the best.
---
This simple Full Hand Mehndi Design is giving the sense that you only want happiness in your life and nothing else. And yeah, every bride wants it.
---
The simplest mehndi design is and it is telling you that you are satisfied with your life. You like you don't want more and less. Balanced you want to go and want to enjoy everything.
---
The same mehndi in both hands, Not so much hotch-potch in this henna mehndi design. It is a bridal Mehendi design too but be aware that there are imitation henna colors. Also coming in the market that can ruin your skin. so use wisely and use only branded mehndi.
---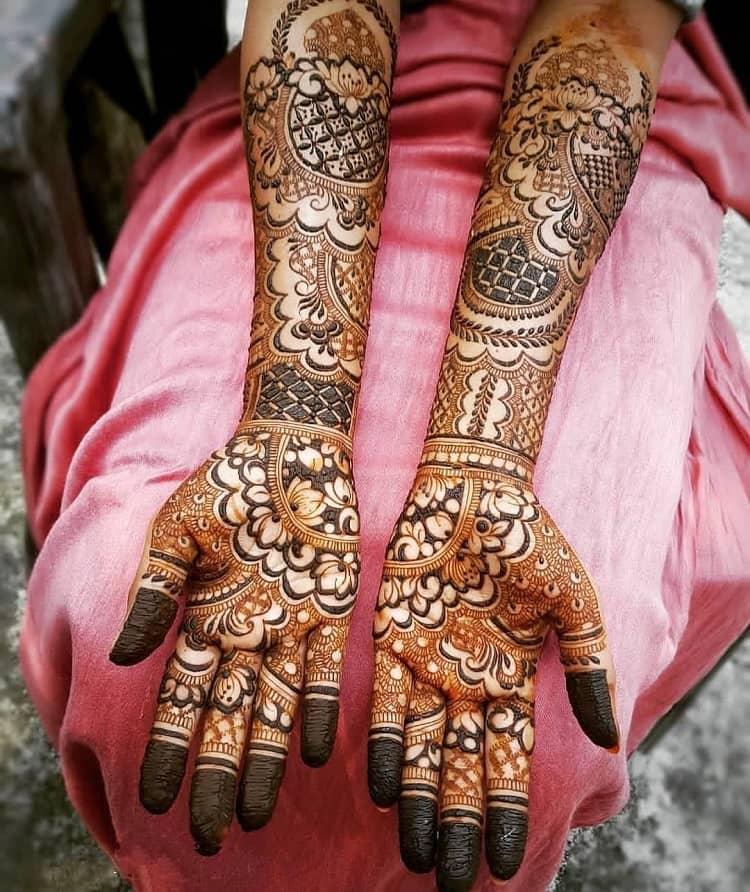 Same Design on palm and different on the wrist to elbow. This henna design has lots of bangle-inspired bands on the wrist area. And a netted mesh on hand part with shaded floral details completes the design.
---
Mind-blowing jaali and floral-jewelry style Simple mehndi designs. This is an elaborate henna pattern so it will take time to apply but don't get intimated by the pattern as it is pretty easy to apply and even basic application skills are enough to draw up this design.
---
The way these floral and paisley bands run all around the wrist really fascinated me and the final look was amazingly ethereal. If you haven't tried a banded mehndi style like this on your hands even once then do give this design a try which uses thin stokes, floral details, name first letters, and the goal with foot bowl figure. and swirls for a gorgeous look at the next wedding you attend.
---
This Rajasthani mehndi design is best suited for more elaborate occasions like weddings or even big festivals like Diwali or eid. Newer brides can also get this design applied after their bridal henna has faded off.
---
Fully flower design with a different pattern of design where it covers all the hands up to shoulder. This is the Rani mehndi design like the bride only wants the Rani by her side including other design patterns. It is an intricate Indian mehndi design pattern with heart shapes.
---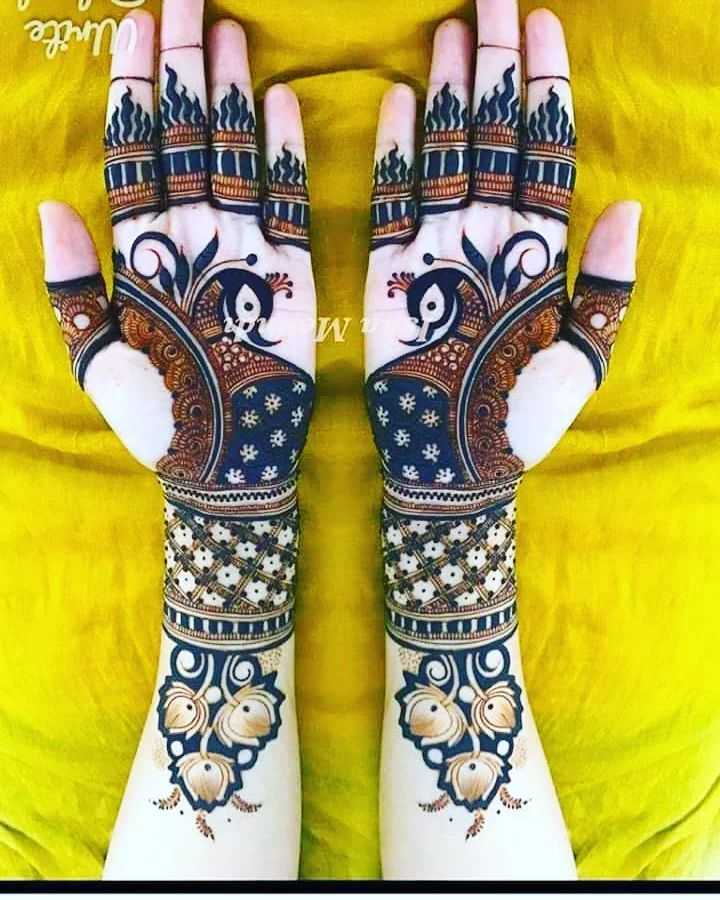 The options are endless and all of them look fabulous. The only thing to keep in mind is that floral Mehndi designs look best when the color of the Mehndi is dark. So make sure you give the pattern sufficient time to dry before removing it.
---
The more intricate the design, the better it looks. You might have to spend a little more time creating this design, but we assure you, your patience will be rewarded when you see how flattering this Mehndi design looks on your hands.
---
Rajasthan has been recognized universally for its rich culture, especially when it comes to art.
---
While this design is not technically a full hand design you can stretch it all the way to your elbow or higher to make it more elaborate. We would recommend that you do this because this design is extremely versatile and can be combined with almost any other Mehndi style for a unique and enticing pattern.
---
This simple Mehndi design is ideal for a wedding function or festival. You can get this design made in less than thirty minutes. The pattern is traditional yet alluring. Make sure you put on a vibrant color nail paint with this Mehndi design.
---
Rajasthani Mehndi patterns are replete with folk tale references and royal symbols.
---
The lotus motif is intrinsically Indian and extremely popular among artists today. You can modify the details but the basic design itself is appropriate for wedding functions and festive occasions. The pattern covers the entire hand and wrist.
---
The absolute bridal Mehendi designs collection includes rich mehndi designs such as these. The most beautiful mehndi designs have the same patterns of flowers and nets and dots to leave no gap on the hands.
---
A peacock design is quite an in trend and is easy to apply. This single peacock motif covers almost the entire palm or on top of the bridal hand, making it a classy full hand Simple mehndi designs.
---
These designs can also be done on the top of your feet and also towards the elbow because you do not want just palm designs on your big day or an occasion.
---
There are fewer chances that these designs can go wrong but just make sure the nozzle of the mehndi cone is not cut too big because we only need thin strands for more intricacy.
---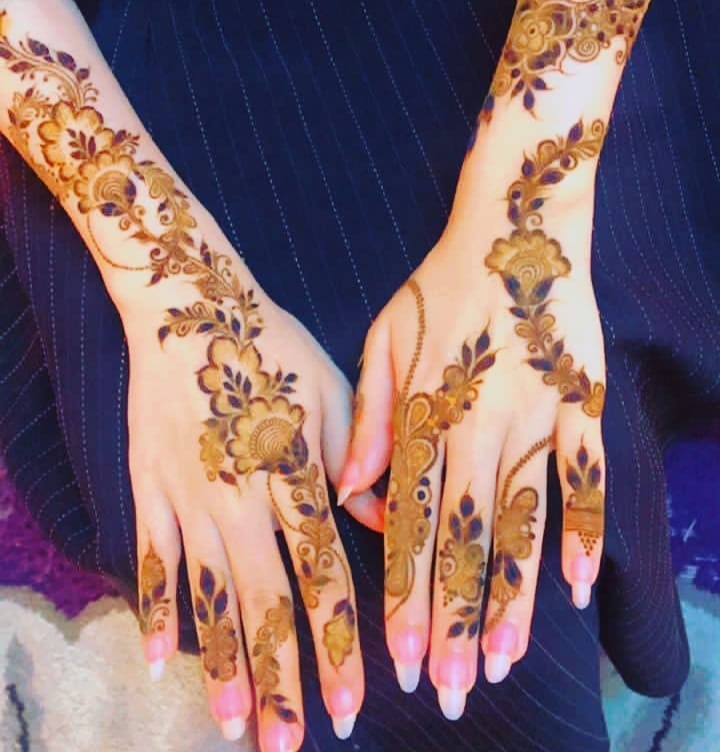 Full hand Mehndi Design simple flower pattern looks amazing who don't like much heavy design. These are designed liked by mostly girls and kids. Floral details are a hit with henna patterns as they are girly, chic, and give a delicate look.
---
These Simple mehndi designs will also look super pretty on your feet, and you can definitely try them for any occasion or do it for someone who is getting married this season.
---
This one is an Arabic mehndi pattern you will come across, but it sure does look appealing to the eye because of its uniqueness. Only one finger has design details while the rest of the hands are kept empty giving a classy vibe. You can also give this design a try on front of hands it is sure to look equally beautiful.
---
The design does not really have any basic motif like that of a flower or leaf. It has spiraled, mostly doing the job of making your hand look elegant with the henna on it. The bridal Mehendi designs are not complicated at all. It is one of the designs that everyone likes.
---
The ultimate goal is to make the overall design look perfect. Try making the circle as round as possible and that your job is half done.
---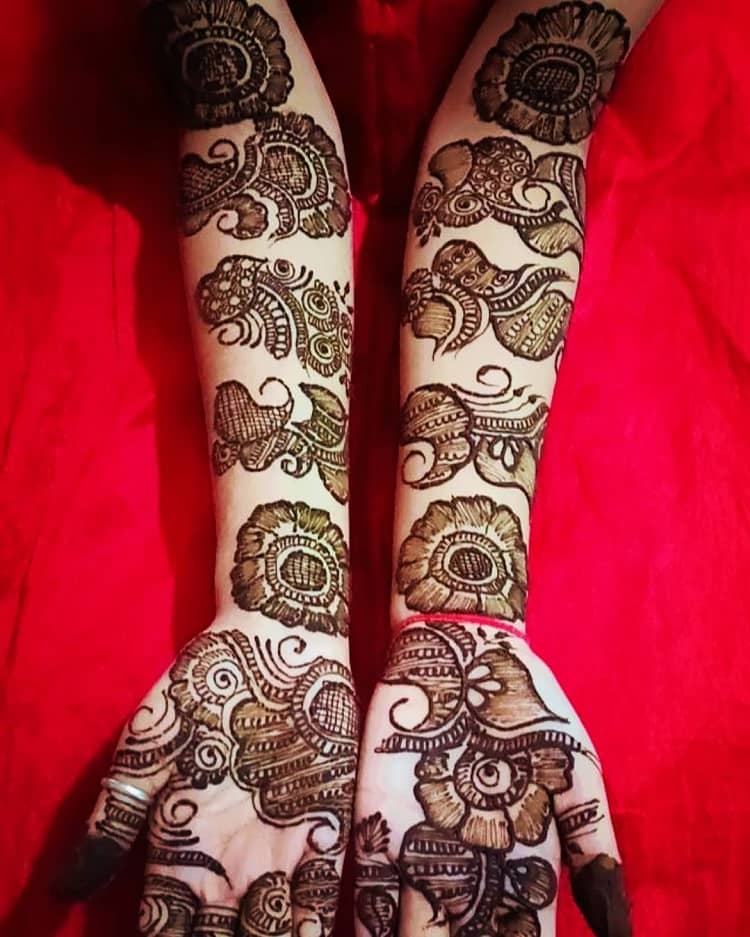 These are typical latest mehndi designs where floral patterns are drawn in lines starting from the palm and stretched till the elbow. It gives the appearance of several colored bangles adorning the limb. This can be varied in multiple ways either can apply floral or spirals pattern or a bit of both.
---
We love how this one displays patterns like carrying & leaves with so much panache. And also, don't miss the fact that this Arabic henna design will let your fingers be free to hold that glass of wine!
---
Add a theme to your mehndi design. How about a picture of jaimala on the palms and a couple of stories on your wrist combined with Dhool Nagada and motifs on your arms.
---
Many brides today prefer to get a personalized Mehndi design with Lord Krishna and Radha Ji figures, instead of going the traditional way. However, you can even opt for a pictorial representation of a love story. Make sure that your Mehndi artist is skilled and the cones used are of premium quality. You cannot afford to make mistakes in design as intricate as this one.
---
Simple heart pattern mehndi. this design fits the bill perfectly. Looks exceptional, is fuss-free, and won't take up too much time to get applied so this is a total winner in my opinion.
---
This beautiful henna design has basic motifs like flowers, dots, and leaves. Which can be made easily and look lovely too!
---
Flowers are loved and this full hand mehndi design uses a tad bit too many floral details to look amazingly attractive. This design is a bit on the complicated side and requires a skilled hand.
---
This design with lots of empty spaces will interest the younger brigades as they prefer fun and unique patterns. You can go for matching or similar patterns in this style on both front and back hands for an amazingly attractive look that stands out.
---
These bridal Mehendi designs are apt for weddings as it has all the main elements of a wedding and hanging bells are highlights of this design.
---
It also includes motifs and jaali patterns on the wrist and fingers. you can go for this easy-to-apply design that covers the back of the hand.
---
If you had this concept in mind that full hand mehndi designs are messy. Then have a look at this absolutely gorgeous bridal mehndi design that will surely leave you mesmerized. This neatly drawn mehndi design is the epitome of grace, beauty creativity.
---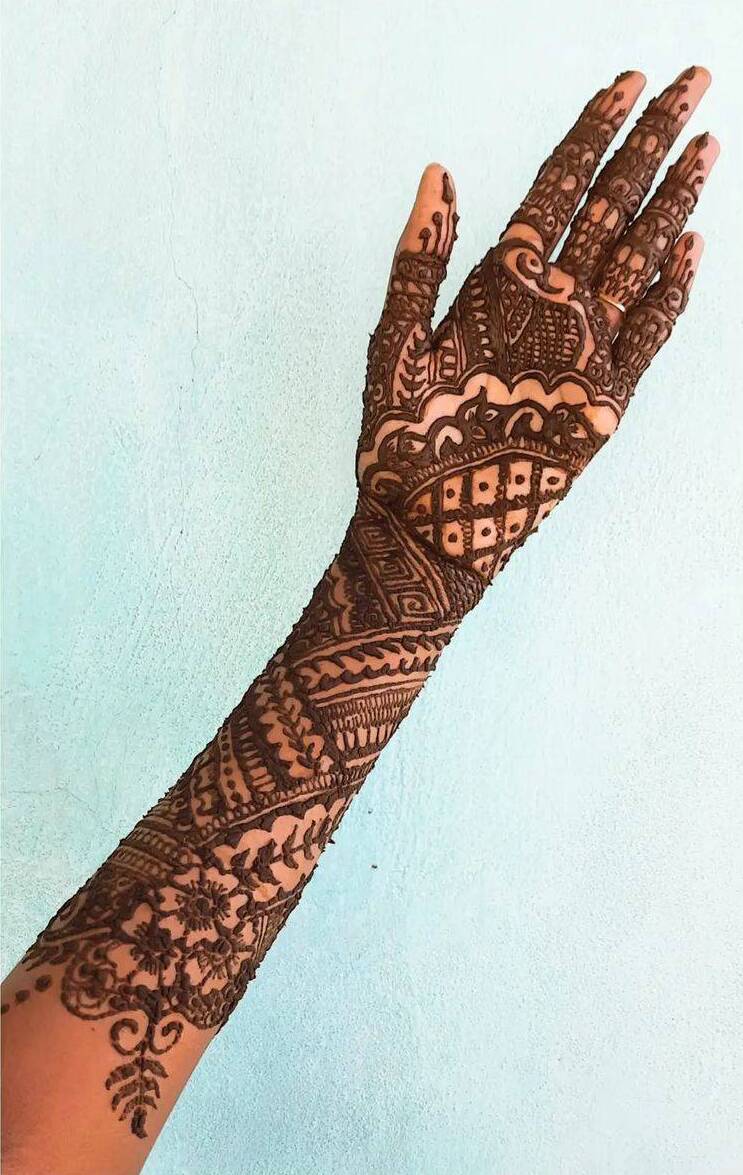 Moroccan Full Hand Mehndi Designs look a lot like western tribal tattoo art because of their zig-zag lines, geometric curves, and quirky aesthetics.
Diamond shapes in particular are a prominent feature. Unlike Indian mehndi designs, the Moroccan is not too elaborate but extremely beautiful without a doubt.
---
Mehndi designs were popularised in the west by Bollywood songs and movies. These types of bridal Mehendi designs are inspired by traditional tribal symbols and patterns.
---
If you wish to take the traditional Arabic Mehndi design a notch higher then you can opt for a heavy Arabic Henna design. This design features an array of motifs and elements that covers the entire palm, fingers, wrists, and forearm.
---
Full Hand Mehndi Designs are very popular during Engagement, Marriage, and Karwa Chauth. Indian mehndi designs feature beautiful art inspired by earth, nature, and emotions. Birds and animals, the sun, Kalash, bride and groom figures are featured quite often in Indian wedding mehndi designs.
---
Ideal for front and backhands, this mehndi design features heavy frames and intricate motifs that look mesmerizing when drawn nicely on the hands. It's up to you whether you want to keep it minimal or go for a complicated design that has small frames.
---
Many brides today prefer to get a personalized Full Handi Mehndi Design instead of going the traditional way. Make sure that your Mehndi artist is skilled and the cones used are of premium quality. You cannot afford to make mistakes in design as intricate as this one.
Traditionally, most bridal mehndi designs with different patterns are applied to the bride to set her apart from everyone else. It can be anything different featured from lace patterns and nature-inspired elements to the groom's name. And as well as symbolic designs that signify blessings, luck, joy, and love. It looks beautiful and dressing up feels complete with mehndi on your hands. Besides, it adds to your beauty.
The best part is when everyone wants to see the design you have on your hands. Since Karva Chauth, Diwali, Raksha Bandhan, eid & marriage, etc.., any festival or having any occasion and without occasion, enhance the love and beauty. I have this new collection of modern mehndi designs for you.
We Ensure To Provide You Cluster Of Wedding Full Hand Mehndi Designs That Will Surely Be The Star Gazer. Hope you like these designs and this may help you to select your dream one. So what you have chosen for yourself, your favorite bridal Mehendi designs? Please comment below and let us know. and follow me on Instagram @rahul_raosaheb Thank You!